Our well trained, service-oriented personnel will work with you every step of the way.
We will quickly and effectively clean your ceilings or walls with little or no business interruption to your facility, employees, or work schedule.  We can schedule our crews around your down times including after hours, weekends or whatever meets your needs.
Ceilings, structural support, walls, pipes, ductwork and other overhead structures must be cleaned regularly to prevent them from becoming a source of contamination to a facilities personnel, production equipment, and products.  Unfortunately, regular cleaning of these surfaces is overlooked until a problem arises.
The frequency of service depends on the facilities needs and the surfaces involved.  Different areas have different needs, and those needs change depending on activities taking place inside the building or nearby.  Ideally, the cleaning should take place when the area is vacant.  As this is not always possible, We can work around your production schedules to minimize the disruption to the facility.
Have a look at the ceiling in your facility, and then let the experienced staff at GC Industrial services help you clean up your act.  You'll find our staff competent and fully experienced in the use of scissor lifts, boom lifts and other specialized equipment needed to carry out the work.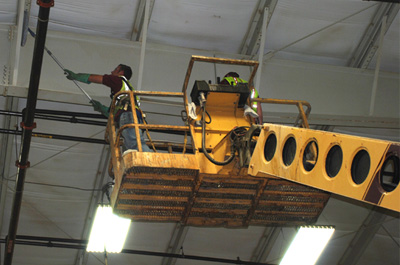 Have An Emergency?
We are ready around the clock to respond to your emergency needs.
For Immediate Service or for a
FREE No Obligation Estimate
24-Hour Emergency Services
Emergencies include:
Fire & Smoke Odor Removal
Water Removal/Drying
Mold/Fungus/Bacteria Remediation
Vandalism/Graffiti Removal